After about 14 years of schooling, most people begin their journey into university. This calls for more independence, responsibilities, challenges, and exposure. Deciding a university is a bigger task than deciding a high school, and one that involves more of your decision than your parents. This post will help you find your interests, field of study, and university and even guide you through the application process to an extent. If you're looking for some easy scholarships and discounts, read till the end of this post for some bonus content!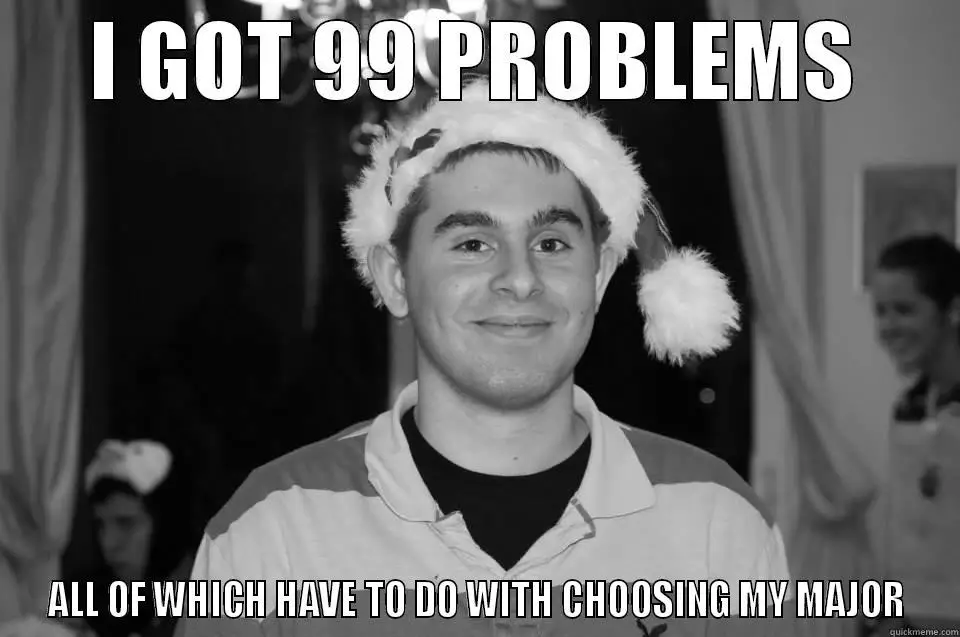 You might be among the people who can relate to meme above, but don't worry because by the end of this post you'll be on your way to relating to the meme below.
Table of Contents
How to decide what field of study to take in university
What do you want to study? What profession do you want? What do you want to do in life?
We're expected to have answers to these questions by the end of our high school journey but some of us still don't, and that's okay. In fact, I think trying to plan out answers to those questions in too much detail can be detrimental sometimes. Nevertheless, your life is a journey to find answers and constantly tweak them as you learn more about yourself.
Reflection and Introspection
The first thing you must do, is identify your strengths, weaknesses, and interests, even if they're vague- note them down, it's progress! You might find it hard to put into words what's on your mind, don't be afraid to ask others.
Approach your parents, friends, relatives, teachers, counsellors, advisers, or anyone else you seem fit for the job and ask them to help you identify your strengths and weaknesses and perhaps interests too.
There are plenty of resources and tests online which can extensively help you in two minutes. https://www.collegefactual.com/tools/find-my-major/introduction/ is a website that tells you your strengths and recommended courses in the order of importance, as well as which universities offer those courses, and the range of salaries. You can also check out https://www.mynextmove.org/.
It's one of the processes I underwent to decide my field: International Studies.
Am I interested in working under a fixed set of rules? (science), no. I find myself to be more of a people-person. An Empath, someone who prefers finding solutions to issues, at a personal level, psychological level, and even world issues and thus politics.
I spread my process of figuring out through the years, by tapping multiple opportunities to see what interests me. For the most part, I was just interested in creating a versatile portfolio and set of skills, and deciding what to do with it when the time comes, and not the other way round.
Even at this point, being in first year of university I'm in the process of further narrowing down my paths and analyzing potential pathways but not stuck on to one road.
Reflection and introspection will also be important for determining whether you want to study in the same country, or go abroad. Are you ready for that kind of independence?
Classifying and Selecting Among Your Interests
You might be interested in music, painting, dancing and other creative fields. When it comes to fields like these. The degree of risk is usually higher in terms of stable income. So you have to analyse whether your interests are economically sustainable. By this, I definitely don't mean that you drop them, but perhaps find an accompanying safe option while carrying this on the side.
It is important to combine what you are good at, with what you can learn, and what people will pay for.
---
How do I know if a risk is worth taking?
If the winning situation is significant but the loss is something that won't get you out of basic survival, take it!
---
Classification and selection among your interests also involves assessment of demand of that profession in the market.
Discovering Your Field By Imagining THe Kind of Lifestyle You Want To Live
You don't have to monetize your passions. You might have certain fields you are interested in that you might not want to turn into a career. I have some interest in psychology but it's not a field I see myself in professionally.
Another way you can identify what field you want to get into is by imagining what kind of life you want after graduating. Do you want a 9-5 job, one that involves a lot of travel, one that isn't too heavy so you get time with friends and family, a job that doesn't demand too much on-call, etc.
Pick careers that suit your preferred lifestyle. A friend of mine is considering switching from Information Technology to Software Development because the on-call and working style in the former is not in their preference.
What to do if you're still not sure and can't take a gap year either
If even after the previous steps, you're not sure of your course, and taking a gap year is not an option, you still have four tools at your disposal.
Cancellation. Among all your options, see what you don't want to do, and among the pool of what is left, try picking what you're most interested in.
Pick something that opens a versatile field for you in future.
You can change your majors once you enter university.
You can apply with undecided majors, giving you an extra year to explore your interests.
This is YOUR life decision
Remember that this decision affects YOU the most, and your immediate family to an extent, not anyone else.
Some of you might be facing a dilemma with parents not letting you do what you truly want. This could be because of many reasons rational in their eyes: risk, safety concerns, expenses, sustainability, not wanting to send you away. etc. Your family objects to certain things out of care, they wouldn't do anything to hinder your growth! All you need is some quality conversations and understanding.
Discuss it with logic, hear them out, respect their opinions and ask them to respect yours too.
Respond to all their concerns with research (make an Excel sheet!).
If it still doesn't work out, consider visiting a career counselor or professional.
Deciding your university
After you've figured out your course and interests, you need to finalise which universities you plan to apply to. Narrow it down first by place, do you plan to stay in the UAE or go abroad?
You can match your courses and universities via the aforementioned website as well as many other searchers such as: https://studyportals.com/
Factors to consider when applying to a university:

1. Application dates: Given that these are last minute applications, a lot of universities go out of the options. Look for universities which are still accepting applications.
Apart from the top ones in the UK, you can apply to 5 universities through UCAS as late as 30 June.
OUAC (Ontario, Canada) deadlines differ as per university. Those can be checked out here: https://www.ouac.on.ca/university-links/.
UAE university deadlines are naturally till April and later, so if you're staying, you don't have to worry too much (there's a surprise at the end of this post, don't forget to continue reading!).

2. Ranking in relevance to the course/field. NOT General ranking. Focus on where it stands in your field more than in general. When I applied to the American University of Sharjah, I cared about how it did in International Studies and Economics more than the general overview.

3. Miscellaneous test requirements (SATs, IELTS, TOEFL, etc.).

4. Government Policy, Language and Social Factors: Check the sustainability of your stay in your target country after your course is over, do you wish to acquire a work permit and aim for citizenship? How are local attitudes towards migrants? Will you be able to communicate with those around you (language)?

5. Other Factors: There are a lot of other factors that you can look into:
Reputation of the lecturers,
Reading the detailed modules for your degree,
How many students are there in a single classroom; this will help determine whether or not you'll be able to get personalised help or be left to a more independent learning experience,
Job opportunities in the region,
Scholarships and Grants
Applying to University Through Lock and Stock For Discounts and Scholarships
Lock&Stock has a list of over 500 undergraduate schools and close to 350 postgraduate schools with an easy application process, application discounts and scholarships.
You can download the app using this link: https://lockandstock.app.link/sasLm3nwlbb. To support me, make sure to enter the referral code 'sasLm3nwlbb'. Know that all my content is unconditional and free so this support would mean a lot to me.
This week is special at Lock&Stock as it is application week and there are even more discount and scholarship opportunities so hurry up and try this out before the 3rd of April!
Application Steps For Lock and Stock
Download Lock&Stock or visit their website
Go To 'Uni-Search' Or manually search for a specific university
Select the country(s) of preference
Set a tuition fee budget
Choose other parameters like field(s) of study
APPLY!!!
Apply and Play the waiting game!
Once you've figured out what you want to do, and are done applying, or have decided to take a gap year. Do your best to keep the negative thoughts and worries at bay, don't let them get to you. Begin working on essays if you need to submit any. Give it your best shot.
This process is likely to get overwhelming given the importance it holds in shaping your future so be sure to have hobbies to go to for unwinding and relaxing. You might come across rejections, but that's the worse that can happen, it's totally okay. None of this is worth more than your mental health and well being.